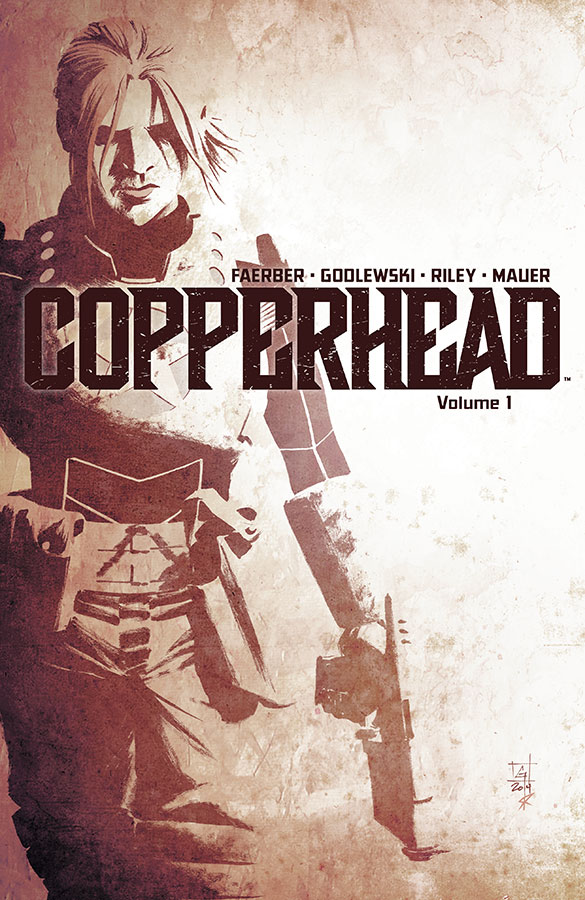 Copperhead from Image Comics written by Jay Faerber and penciled by relative newcomer Scott Godlewski is the heir apparent to the frontier sci-fi western crown. The best western space adventure since Firefly is a great crime drama / adventure focused on a strong female lead and the best fuzzy alien sidekick since Chewbacca. With short, crisp police stories layered with an overarching slow burning darker mystery arc that has barely begun to develop this comic is both engaging and refreshing.
Godlewski's art pairs perfectly with the stories. Simple line work and sparse backgrounds generate an authentic sense of isolation and harshness on a dusty distant planet. Adding to this wonderful atmosphere is the menagerie of aliens populating the titular town of Copperhead that Godlewski has dreamt up.
Although the art is a definite strength, the charm of this book is the writing. Faerbaer, has dabbled in superhero books for the big two (Teen Titans, New Warriors) but seems to have found his stride with this book. In just five issues Faerber has created an alien world ripe with racial tensions caused by several unique alien cultures and traditions. Despite the many divergent cultural perspectives Faerber is able to strike at the heart of common values, and in this way, despite the fact it's a comic mostly featuring aliens, this is a very human story.
The first arc recently wrapped and a collected edition has already been released, so now is a great time to get on board.
Copperhead: A New Sheriff in Town | Jay Faerber and Scott Godlewski | 128 pages |  Image Comics | ISBN: 978-1632152213