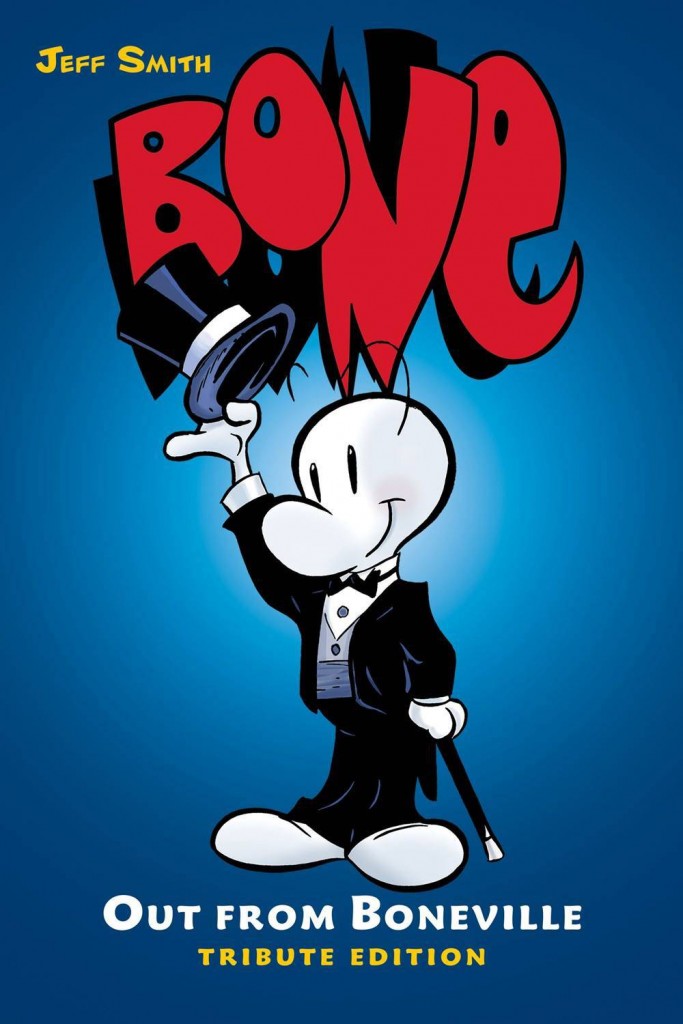 Comics for kids have come along way in the last ten years, thanks in large part to Scholastic's Graphix imprint that has created some of the best youth targeted comics in the industry. This year is the tenth anniversary of the Graphix imprint that launched with a full colour edition of Jeff Smith's Bone: Out From Boneville. To celebrate, Graphix has published a very handsome hardcover "Tribute Edition" of the comic classic.
Bone is actually 24 years old this year, having debuted as a single, black and white, $2.95 floppy independently published by an unknown creator back in 1991. Since then Bone has been reprinted numerous times in black and white and colour. So what makes this edition different and worth adding to your bookshelf?
To celebrate the tenth anniversary of colour Bone, Jeff Smith has written and illustrated a brand new 8-page poem about a favourite Rat Creature delicacy.  There is also an 8-page pinup gallery of some of the classic Bone comic covers that don't get to be seen in these recent colour editions. My favourite part of this tribute is 16 brand new Bone illustrations drawn by the best talent in kid's comics: Raina Telgemeier (Sisters), Craig Thompson (Blankets), Kazu Kibiushi (Amulet), Kate Beaton (Hark! A Vagrant) and so many more!
Enough to make you buy this book again? That will depend on the person. Completists will have to have it, but other than a lighter weight paper, the actual story portion of the book is exactly the same as the previous Graphix edition, so it may not be worth it. However, if you've been living under a rock for the past 24 years and have never read Bone before, this is the perfect jumping on point. The book looks great, but the story of the Bone brothers getting kicked out of their home town and making a new life for themselves in a small village is only the beginning of a wild ride that you'll definitely want to experience. I'm not sure if the plan is to release "Tribute Editions" of the other eight volumes, but I sure hope so.
Bone: Out From Boneville, Tribute Edition  | Jeff Smith | 192 pages |  Graphix | ISBN: 978-05454800709
Review copy supplied by the publisher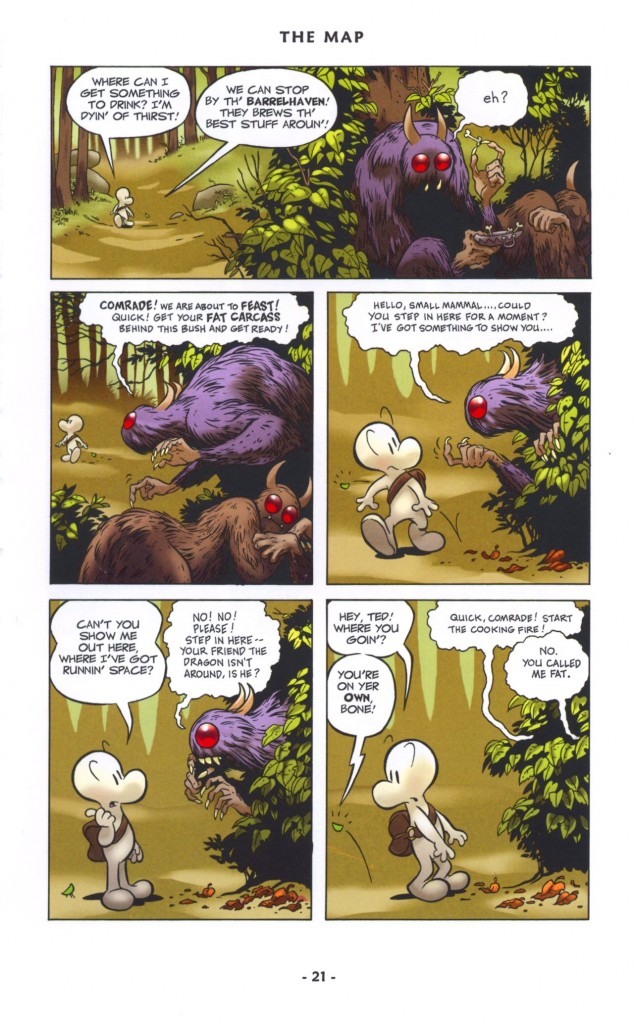 Want to win a copy of Bone: Out From Boneville – Tribute Edition? Here's how you can!
Want more ways to enter? Leave us a comment here telling us why Bone is so awesome! And head over to
Facebook
for more ways to enter!