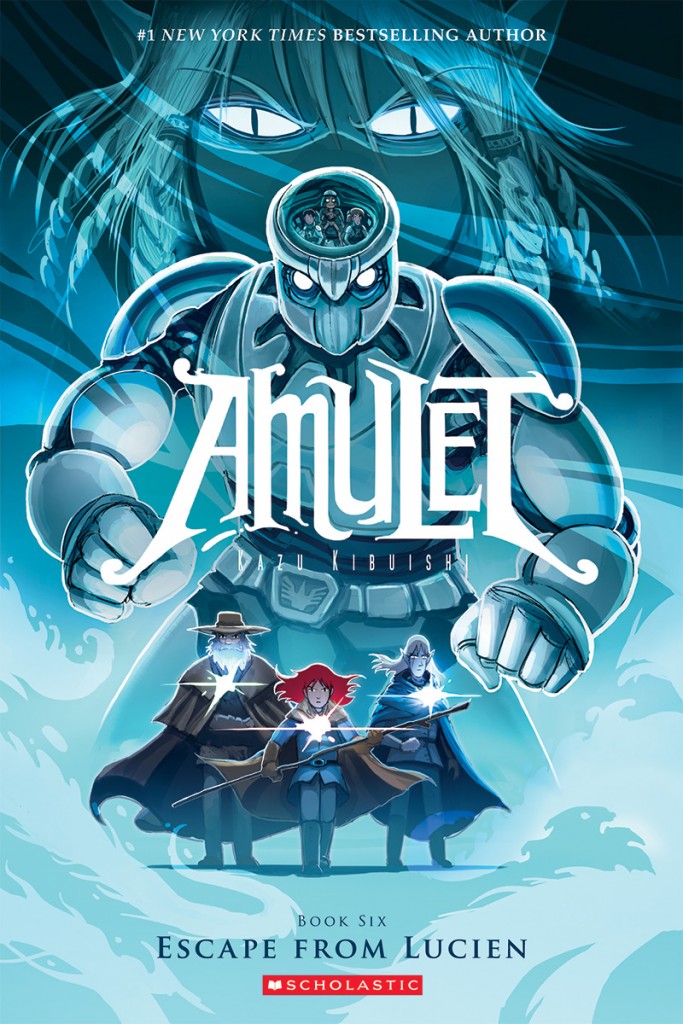 When we last left our heroes, Emily had decided to finally confront the mysterious voice from her amulet that was trying to control her thoughts and actions, while Navin, Alyson and the other students of the Academy were preparing for an all-out assault from the villainous Max and his army of creepy Elves.
And then nothing. For nearly two years no new Amulet was released.
It wasn't until after this latest volume was released that I found out that Amulet creator Kazu Kibuishi was stricken with spinal meningitis and had to halt his work on the series to recover. Spinal meningitis is a very serious disease that can seriously debilitate or even kill people. Kibuishi has made a full recovery and is a very fortunate man.
And we are fortunate as well, for we get more Amulet! Escape from Lucien was released a few months ago and it was well worth the wait. Kazu has said that Amulet will be a trilogy of trilogies, which places this volume as the last part of the second trilogy – and, boy, does it feel like it. While the first three volumes revealed this new, fantastic world, the second three volumes have dealt with Emily and Navin realizing their place in the bigger picture and training for the epic battle that will take place during the last three volumes. So this volume, being at the end of the second trilogy, is mostly setting up the characters for the next chapter.
The city of Lucien has been destroyed, but where did all the inhabitants go? Navin and his crew get stranded in Lucien trying to figure that out. Meanwhile, Emily, Vigo and Trellis join Max in an uneasy alliance in order to confront the voice of the amulet.
Surprising to me was that Navin is the focus of much of this book. He has come a long way from the scared younger brother that we first meet in the first book. While he is still trying to figure out his place in the bigger picture, he displays maturity and leadership qualities that have come as a result of not being under his mom's or Emily's protective wing.
The climax of the book definitely surrounds Emily and conclusion of Max's arc, our heroine takes a back seat for a majority of this volume. The first three books really defined her character which has sort of become stagnant in the following three books. She struggles in her confidence as a leader and the internal battle with her amulet has been long and drawn out. I foresee major changes for her in the next volume, so let's hope that we see her character develop some more as she battles the Elf King.
From the writing and art to the pacing and staging, Escape from Lucien feels like a movie in every sense. Fans who have been along for the ride will rave about this volume as there is much to love. It is not a jumping on point at all, in fact, I had to revisit the previous volume to remind myself what was going on. But once you are on board, you won't want to get off. This is an epic adventure every bit as satisfying as Scholastic's other big graphic novel series, Bone. If you've never read Amulet, do yourself a favour and go pick up volume one. This will be a series that will forever hold a place in graphic novel history.
Amulet 6: Escape from Lucien  | Kazu Kibuishi | 215 pages |  Graphix | ISBN: 978-0545433150
Review copy supplied by the publisher